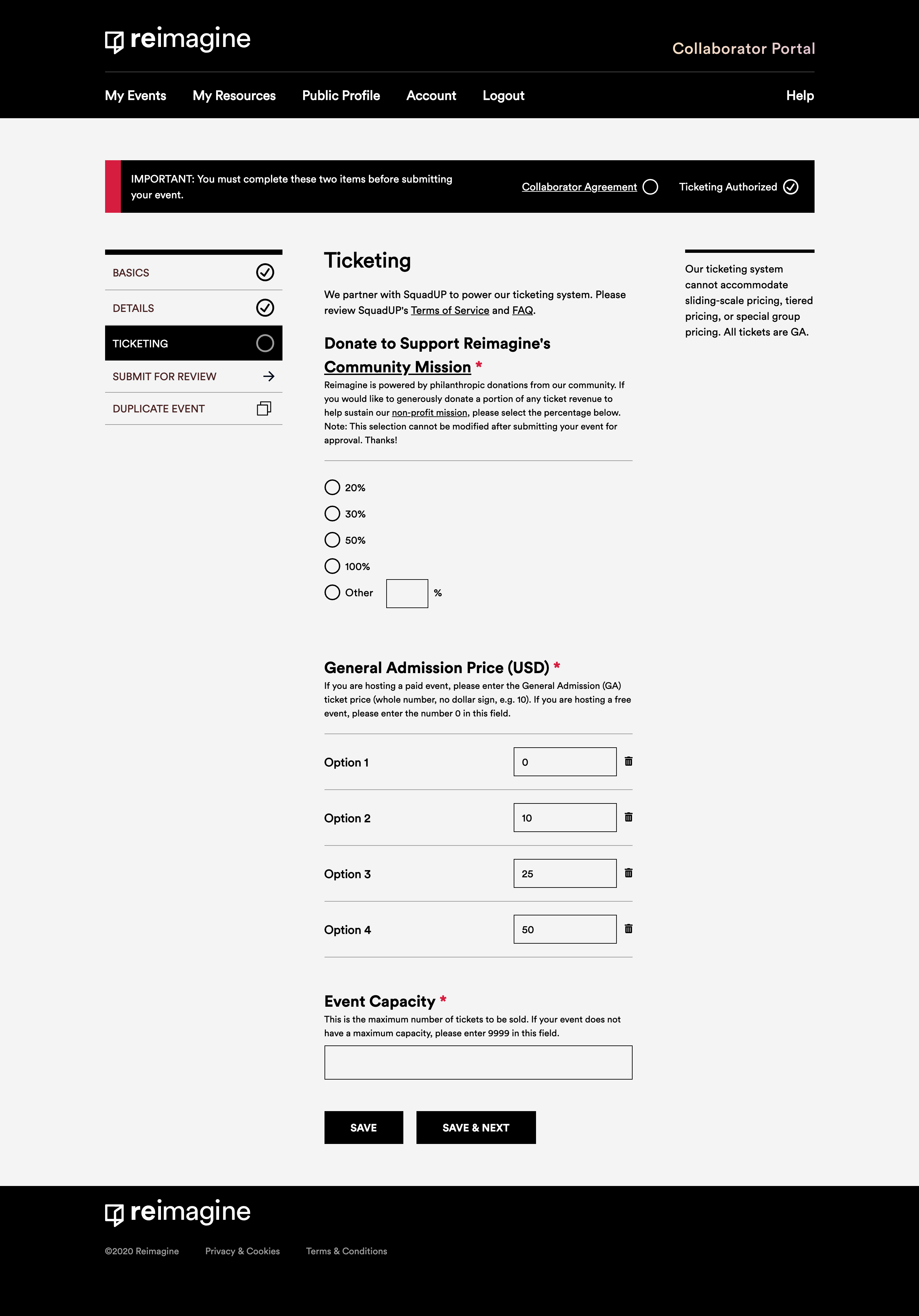 Our ticketing platform is powered by our partners at SquadUP and is connected to the Reimagine website. All collaborators must use this centralized ticketing system for their events (even free events for RSVPs). The way we have designed ticketing through our website benefits collaborators, Reimagine, and attendees!
Please do not set up separate ticketing with a third-party vendor like Eventbrite. (If you have a legal conflict with using Reimagine's ticketing system, please get in contact with us.)
As a reminder, if you host a paid event, you get 100% of the ticket sales revenue, less SquadUP service fees. You also will have access to attendee registration information (names, emails, etc.)
Donating to Support Reimagine's Community Mission
Reimagine is powered by philanthropic donations from our community. If you would like to generously donate a portion of any ticket revenue to help sustain our non-profit mission, please select the percentage below.
This selection cannot be modified after submitting your event for approval.
The choice of donating or not is completely up to you. If you do not wish to contribute, simply enter '0' in the Other field.
General Admission or Sliding Scale
If you would like to offer just one price, you may enter it as Option 1.

If you are hosting a free event, you will simply enter '0' in the field for General Admission Price in the portal.

If you would like to create a Sliding Scale option, click the button labeled, "Create Sliding Scale".

You can create up to four price points, including a free option if you wish.
Event Capacity
This is the maximum number of tickets to be sold (or RSVPs for free events).