Welcome to Reimagine's fall festival: Creating Space — a global festival in which we create spaces for healing, for grieving and mourning, for truly reckoning with racial inequities, for joy and anger, for silence and dialogue, for art and action -- and for coming together in unity within and across all communities.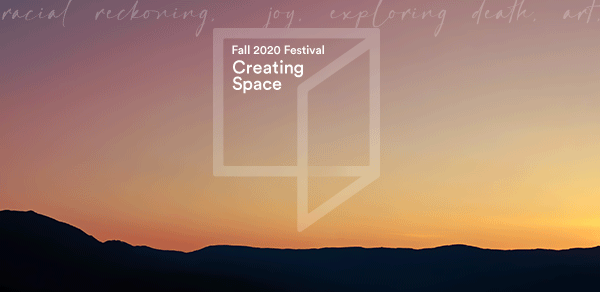 And though we only recently finished our last major initiative, at Reimagine we try to turn towards death--not away--so that we may remind ourselves of this most powerful question: "why wait?" We have therefore decided to launch a brand new fall festival this October aimed at doing all we can to spark these essential spaces for the public and also advocating more broadly for their creation in our own workplaces, schools, communities, and families.
As part of this grassroots initiative, we'll provide you with skills-based training in what it means to hold space thoughtfully for others in a virtual environment, and then invite you to use your creativity and care to design inspired spaces for your communities and audiences, as part of the festival and beyond.
This new virtual festival launches with a kick-off event on October 9, 2020, and extends through December 9.
We are committed to offering festival programming and resources throughout the pandemic, for as long as we can contribute towards the collective well-being.
While nothing can replace the experience of being in-person, we've seen how critical it is for people to still be able to come together--to feel part of a community, to have a set of shared experiences, to learn, to plan, to wonder, and to help honor our loved ones.